Disc Dog Training Clinics and Playdays
---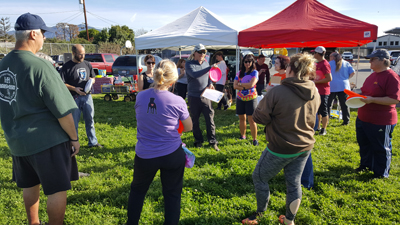 D².I.S.C. Training Clinics are always open to everyone, member or not! We hold playdays, have potlucks, hold small contests with prizes and practice for upcoming contests. In addition we offer plenty of one on one training to help the new person get involved in this sport. Its a great way to spend time bonding with your canine in addition to meeting some fantastic people with the same interests as you!
This clinic is free to all club members but we are now charging for non-members to attend these clinics at $10.00 per team (dog and handler), which includes a free disc for all.
Our Clinics are also held in numerous venues throughout Southern California, so if travel is a question, check this page often, we might just be holding a Clinic in your neck of the woods!
---
Training Clinic
Our first Clinic of 2021 will be held on Sunday June 27, 2021. Set-up time is at 8:30. The activities begin at 9:00am and will end at 1:00pm.
We are very fortunate to have Kirby as part of our clinic trainers. Our clinics usually focus on disc throwing to improve for distance, accuracy & learning different throws, and dog training to improve T&C and freestyle performance. This also includes an open forum so you can ask questions & bring up different areas for training sessions.

Clinics are free to all D2ISC members and $10.00 for non members. Everyone will be given a standard disc to play with their dog but hard bite dogs will need a more durable disc. D2 will have a variety of discs available to purchase at cost to members & retail to non members.
In an effort to hold our Clinics in different locations, this event will be held at the following location:
Evergreen Park
9300 Moody Street
Cypress, CA 90630
---
Remember you do not have to be a member to come out and have fun at our Clinics!
As a reminder, please bring chairs, drinks, water for your pups, something to pick up after the dogs and some sort of shade if you have that available, i.e. an ez-up, beach umbrella etc. Also, a first aid kit is always a plus. There will be plenty of dogs at this play day so unless you are involved in a training session or involved in a competition, we ask that your dog remains leashed or crated at all times as a courtesy to everyone attending this Clinic. Thanks for understanding.